SKU: FH-IGN105, FH-IGN125, FH-IGN150, FH-IGN180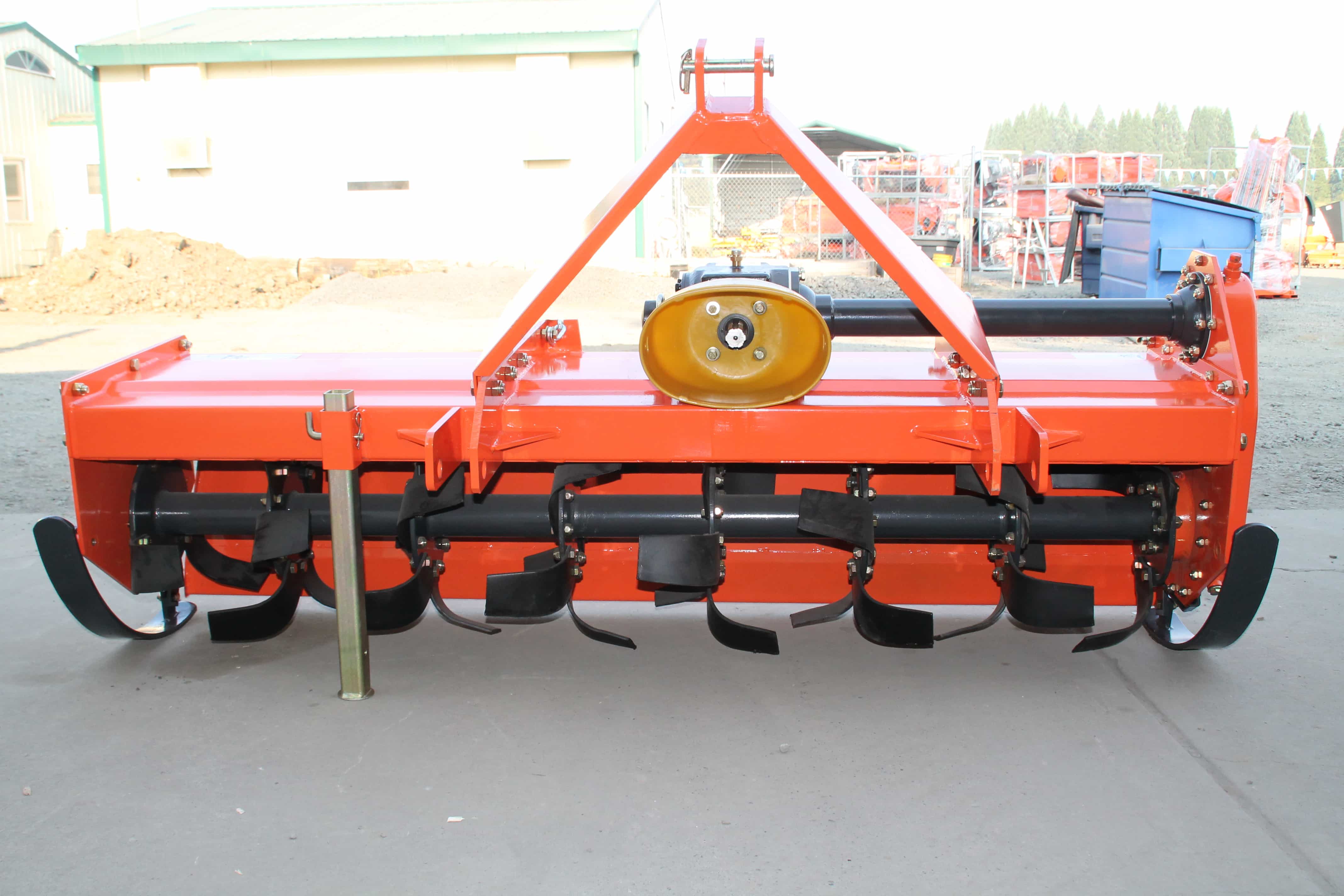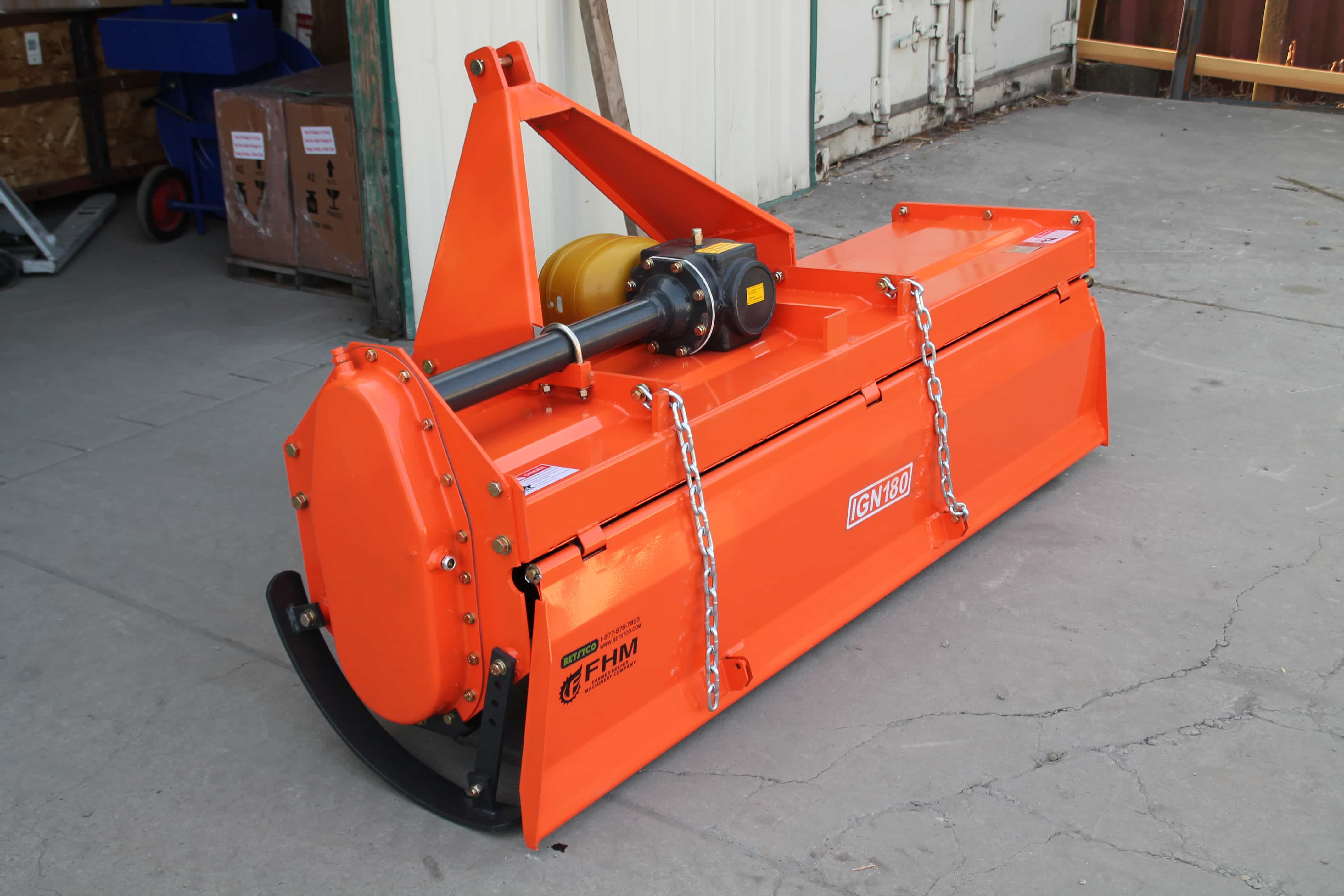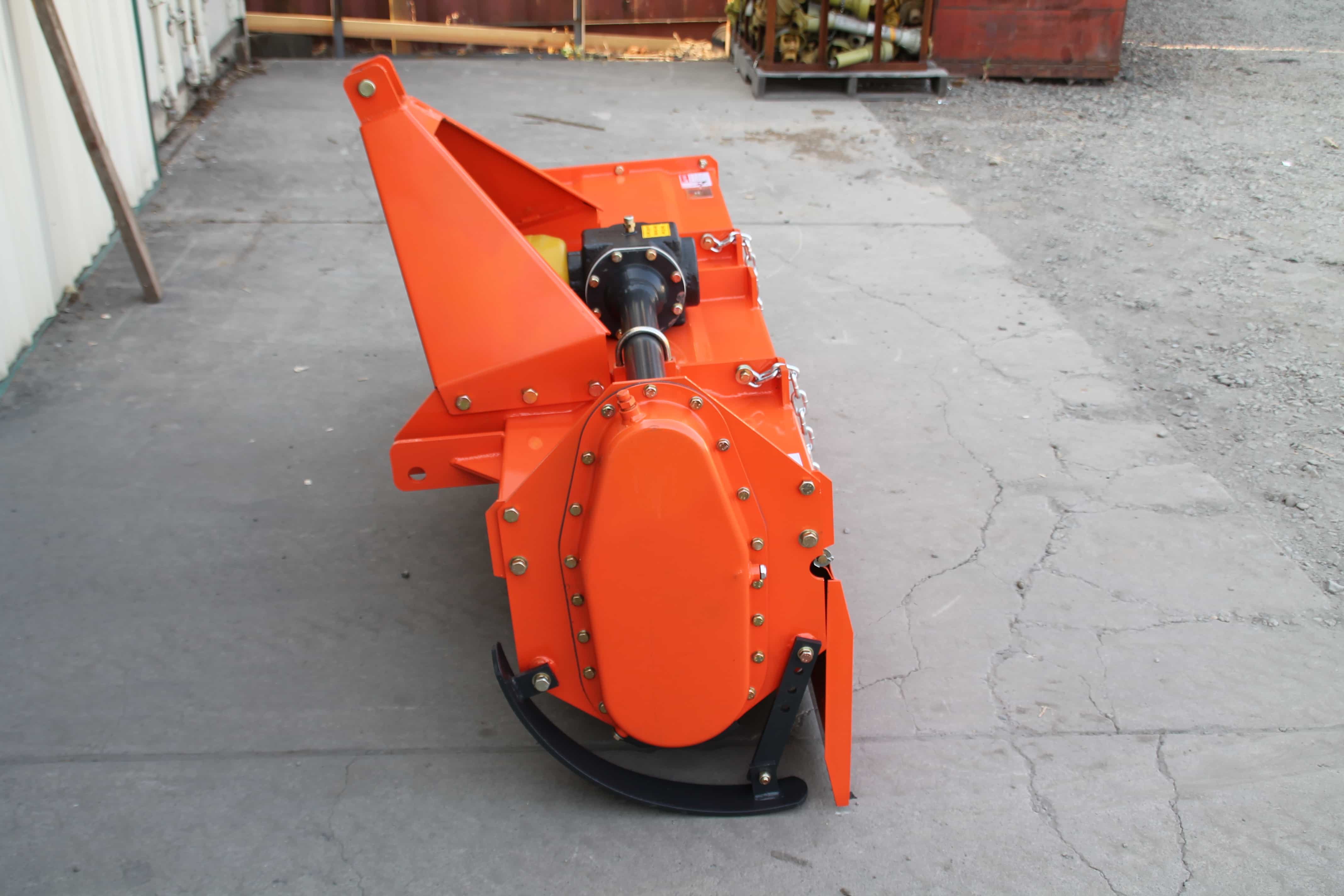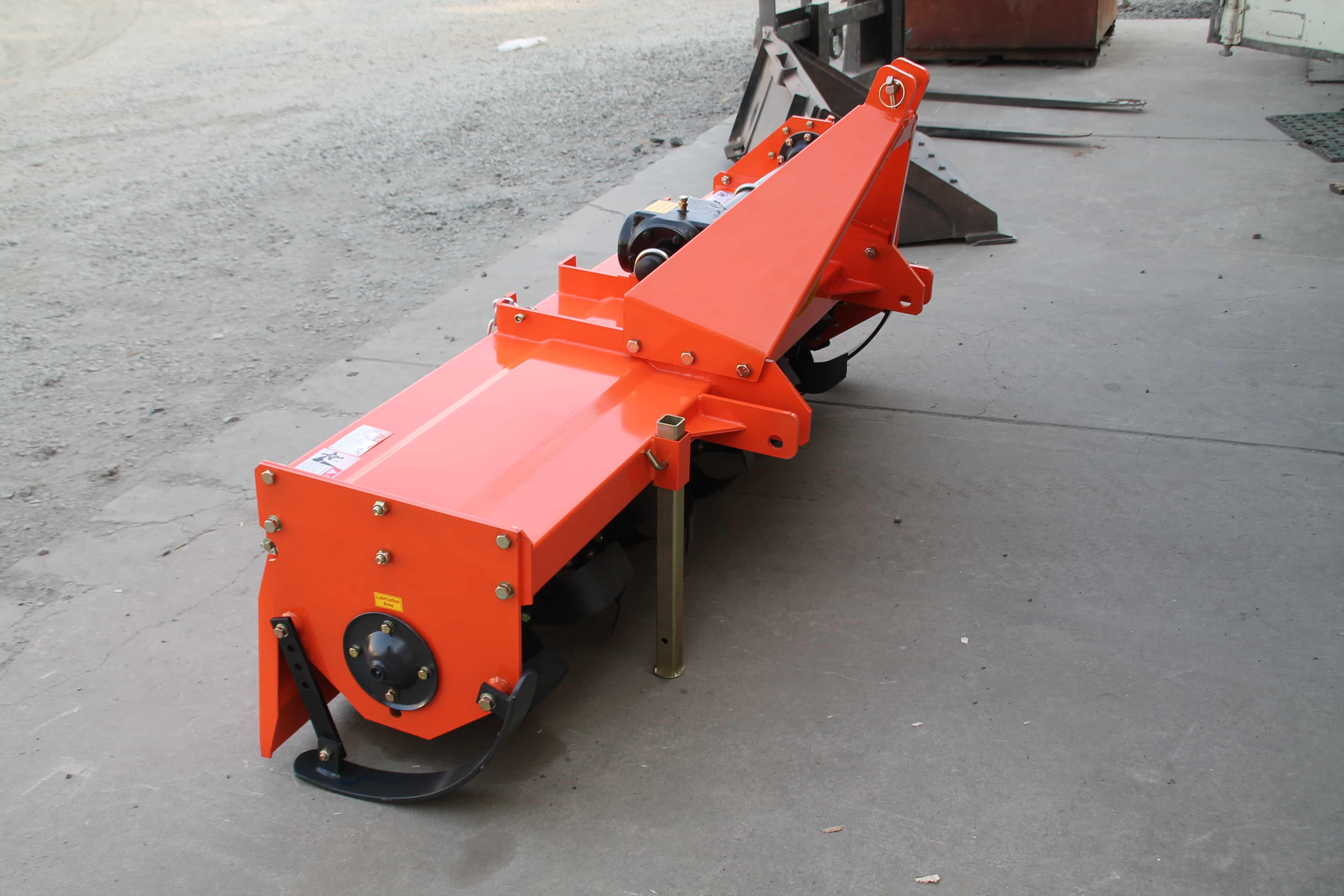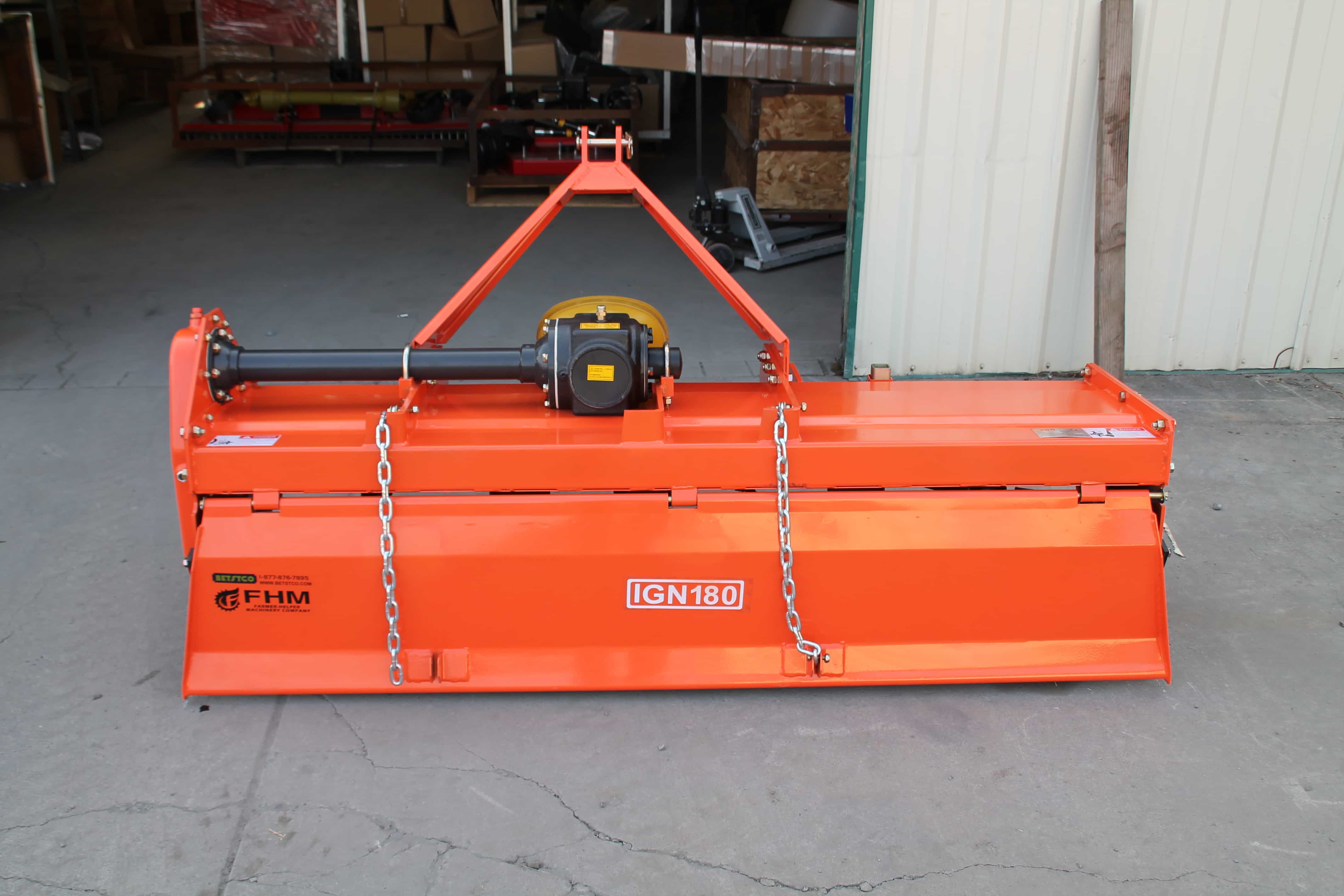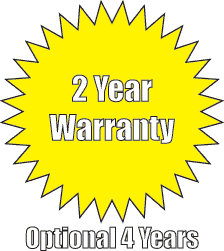 Working Width
41" - 71"

Powered By:
Tractor PTO
18- 75 HP
Select Tractor Tiller Below to Purchase
[tailor_products style="default" layout="grid" items_per_row="2" dots="1" meta="price" image_link="post" image_size="thumbnail" posts_per_page="12" product_tag="130" order_by="title" order="ASC" class="tailor-5f8f3b7ee0f8d"][/tailor_products]
Description for tiller:
The IGN Series Heavy Duty Rotary Tiller is designed for tilling and breaking up to 500 acres per year. Rotary tillers prepare the soil in flower beds, gardens, landscape beds, turf grass seed, and sod beds. More specifically, tillers break up heavily compacted, unworked soils to allow for better water percolation and air movement to plant root zones.
6 Tine Tiller Designed for 18 - 75 HP Tractors

Heavy Duty Rotary Tiller Designed for Tilling & Breaking up to 500 acres per year

Oil-Bath heavy duty 1-1/4" thick side gears combined weight 30 lbs

Inward facing outer tines for definite tilled edge

1-3/8" 6-spline slip clutch driveline included

Heavy replaceable 28 oz. tines

Cat I & Cat II 3-point hitch models

Adjustable tilling depth up to 8"

1/4" Double-walled housing

65 hp rated gearbox

18" blade swing
Weight: The IGN series is 620 lbs to 870 lbs depending on size of the unit. Rotary Tillers need to be heavy in order for the tines to penetrate the ground, and reduce bucking.
Working Width: The IGN series has a tilling width of 41" to 71" depending on the size of the unit.
Overall Width: The IGN series has an overall width of 50 1/2" to 80 1/2" depending on the size of the unit.
Offset: The IGN series has an offset of 3" to 12 1/2" to the right of center, depending on the size of the unit. The tiller is offset from the center of the PTO so that you don't end up with compacted tire tracks in you finished bed.
Rotation: The IGN series are forward rotation as the tires of the tractor when traveling forward. This rotation requires less horsepower to operate; allows for a smoother bed of soil behind the tiller, and allows rocks to expel without recycling them through the tiller.
HP Required at the PTO: The IGN series has a requirement of 18 - 75 hp at the PTO, depending on the size of the unit.
Working Depth: Adjustable side runners to 2" - 8" deep. Adjustable and replaceable side runners allow for deep tilling.
Total Number of Tines: The IGN series has heavy duty 28 oz tines. 24 to 42 tines, depending on the size of the unit. They are made of hardened tool steel. These tines are precisely spaced to maximize tilling coverage while at the same time reduce jamming caused by rocks and debris. 
Blade Type: The IGN series has L shaped tines.
Rotor Diameter: 3" diameter 5/16" wall tube. Large tube diameter adds strength and rigidity.
Rotor Swing Diameter: The IGN series has a 18" diameter. Large swing diameter allows for deep digging.
Rotor Shaft Speed: 540 RPM PTO input speed = 210 RPM rotor shaft speed. The rotor speed is matched with the number of tines to reach the ideal torque required to tear through the earth.
Deck Material: The IGN series has a 1/4" thick steel housing.
Rear Deflector: Keeps dirt in and maintains a level finish. The deflector is shaped and formed for additional strength. An adjustable deflector level allows for various finish results.
Main Gearbox: ASAE 1- 3/8" - 6 spline shaft, proven cast iron, oil bath gearbox; ratio is 1.69:1.
Gear Drive: Oil bath gear driven side gear drive mechanism; gear ratio is 1.52:1 gear drive is superior to chain drive in every way. The IGN Series Standard Rotary tiller has a rated 65 HP continuous use slip clutch comprised of adapter shafts to connect between your PTO shaft and the implement and two spring compressed clutch plates. The idea is, as the name implies, that a clutch, in this case two plates compressed by a series of springs on the casing, transmits power to the implement.
When there is an obstruction, the clutch slips and prevents the shock load from being transmitted to the tractor or absorbed completely by the implement.A key point in using a slip clutch is to make sure it is adjusted properly to begin with (ie it does in fact slip and you don't have the springs set so tightly that it won't) and also that you periodically loosen the springs to allow the clutch to slip so that the two plates don't rust together.
Hitch Type: Standard 3-point category 1 hitch. 
Parking Stand: Supports the tiller during storage to prevent it from tipping.
Finish: Baked on powder coat, powder coat is superior to paint.
Warranty: 2 year parts warranty with an optional 2 year extension.
Support Before and After the Sale: At Betstco  our service department is staffed with professional technicians that inspect each machine before it is shipped. This ensures that you get a trouble free machine from the get go. When you need technical help or parts, our courteous staff can help you get what you need from our fully stocked warehouse. We keep a full line of replacement parts, and we can ship parts within 24 hours.
| | | | | |
| --- | --- | --- | --- | --- |
| Model Number | FH-IGN105 | FH-IGN125 | FH-IGN150 | FH-IGN180 |
| Standard Tine Rotation | Yes | Yes | Yes | Yes |
| Tilling Width | 41" | 48" | 59" | 71" |
| Right Offset | 3" | 7" | 10" | 12.5" |
| Overall Width | 50 1/2" | 57 1/2" | 68 1/2" | 80 1/2" |
| Min - Max Tractor HP | 18 - 50 HP | 20 - 50 HP | 25 - 50 HP | 35 - 75 HP |
| 3Pt. Hitch | Cat. I | Cat. I | Cat. I | Cat. I |
| Gear Box Rating | 65 HP | 65 HP | 65 HP | 65 HP |
| Number of L shaped Tines | 24 | 30 | 36 | 42 |
| Drive Type | Gear to Gear | Gear to Gear | Gear to Gear | Gear to Gear |
| Double Walled Housing | 1/4" | 1/4" | 1/4" | 1/4" |
| Rotor Swing Dia. | 18" | 18" | 18" | 18" |
| Adjustable Tilling Depth | 2" - 8" | 2" - 8" | 2" - 8" | 2" - 8" |
| Driveline Type 540 PTO | Series 4 1-3/8" SPL w/QD 1-3/8" SPL w/Slip Clutch | Series 5 1-3/8" SPL w/QD 1-3/8" SPL w/Slip Clutch | 27" Series 5 1-3/8" SPL w/QD 1-3/8" SPL w/Slip Clutch | Series 5 1-3/8" SPL w/QD 1-3/8" SPL w/Slip Clutch |
| Weight | 620 lbs | 705 lbs | 775 lbs | 870 lbs |
| Crated Weight | 640 lbs | 725 lbs | 800 lbs | 905 lbs |